Give Your Guests the Gift of Local Knowledge with Coral: A Guidebook for Your Short Term Rental
[:en]
This is a guest post written by Coral — an interactive guidebook, and one of our proud partners in the home-sharing ecosystem!
Sharing your home is much more than just posting your listing, answering some messages, and saying a prayer when a guest shows up. The real magic of becoming a successful Airbnb host is in taking control and curating your guest's experience. Your home is a part of who you are, and when you share your space and neighborhood with a traveler you give them a unique lens through which to see your corner of the earth.
We built Coral to help you take your home sharing experience to the next level by enabling you to create delightful and authentic local guest experiences. Be a thorough host with less effort and create lasting memories that encourage repeat business.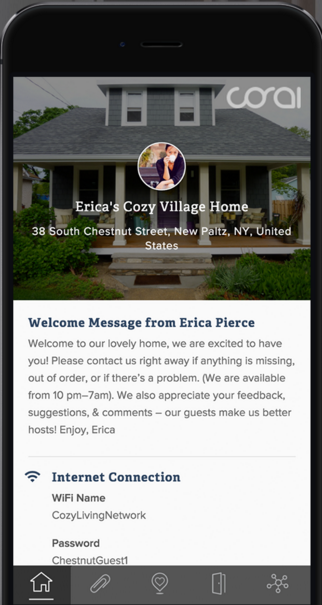 Hosting can put a lot of pressure on you and take up a ton of your time and mental bandwidth. Your guests are dependent on you and the info you've shared with them throughout their trip, so thoroughly informing them is critical to everyone's sanity and happiness. With your Coral Guidebook in your guest's hands, you can have peace of mind knowing that they have everything they need for an incredible stay, curated by you!
Put yourself in your guest's shoes, think about all the gadgets, appliances, and details of your home that are routine for you but will be totally unknown to your guests. Providing the information to help your guests understand how to use all the features of the home will help them get comfortable with ease.
However, it doesn't stop there! Travelers are seeking an authentic local experience and are relying on you to make that happen! Showcase your favorite local gems with Coral and make it easy for guests to have the local journey that they are craving.
Once you have sent your Coral Guidebook to your guests, sit back, relax, and watch the 5-star reviews roll in!
Sign up to create your Guidebook at www.coral.life. Mention you read about coral on the Properly blog, and we'll offer a free House Manual to Guidebook transfer service and 1 on 1 on-boarding with the team!
[:it]
Questo guest post è stato scritto da Coral — una guida turistica interattiva nonché uno dei nostri partner nell'ecosistema dell'home sharing!
Affittare la propria casa è molto di più che semplicemente pubblicare un annuncio, rispondere a qualche messaggio e sperare in bene quando arriva un ospite. La parte migliore di diventare un host di successo su Airbnb è prendersi cura dell'esperienza dei propri ospiti. La tua casa è parte della tua identità e quando condividi il tuo spazio e il quartiere con un turista, gli fornisci un punto di vista unico dal quale osservare il tuo angolo di mondo.
Abbiamo realizzato Coral per aiutarti a migliorare la tua qualità di home sharing, dandoti la possibilità di creare esperienze locali autentiche e piacevoli per i tuoi ospiti. Sii un host perfetto come meno fatica e crea ricordi che durano nel tempo e stimolano i turisti a tornare.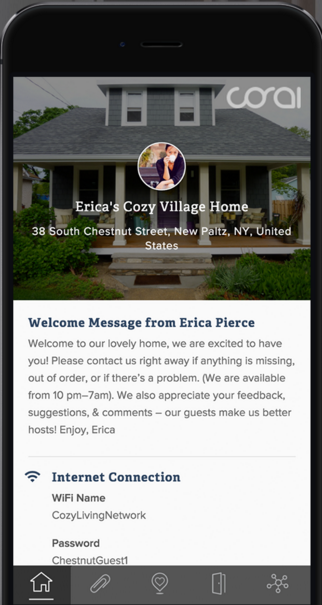 L'attività di host può essere molto stressante e richiedere tempo e tanta attenzione. I tuoi ospiti dipendono da te e dalle informazioni che dai loro durante la loro vacanza, quindi la qualità di tali informazioni è essenziale per il loro benessere e per la loro soddisfazione. Con la tua guida turistica Coral nelle mani dei tuoi ospiti, puoi stare tranquillo sapendo che hanno tutto ciò di cui hanno bisogno per un soggiorno straordinario, curato da te!
Mettiti nei panni dei tuoi ospiti, pensa a tutti gli accessori, le attrezzature e ai dettagli della tua casa che per te sono normali ma che ai tuoi ospiti sono del tutto sconosciuti. Fornire informazioni per aiutare i tuoi ospiti a capire come usare tutti i servizi e le funzioni della casa permetterà loro di mettersi comodi più facilmente.
Ma non finisce qui! I turisti sono alla ricerca di esperienze locali genuine e si affidano a te per riuscire a viverle! Metti in mostra i tesori della zona che preferisci con Coral e facilita la scoperta da parte dei tuoi ospiti delle principali attrazioni locali.
Una volta inviata la tua guida turistica Coral ai tuoi ospiti, puoi rilassarti e stare a guardare le recensioni a 5 stelle che arrivano!
Iscriviti per creare la tua guida turistica su www.coral.life. Menziona di aver letto di Coral sul blog di Properly e ti offriremo un servizio di trasferimento gratuito da Manuale della casa a Guida turistica e una sessione di formazione personale con il nostro team!
[:fr]
Ceci est un post d'invité rédigé par Coral — un guide interactif, et l'un de nos fiers partenaires dans l'écosystème du partage de logements !
Partager votre logement représente bien plus que simplement poster votre annonce, répondre à quelques messages et réciter une prière lorsqu'un voyageur arrive. La véritable magie dans le fait de devenir un hôte Airbnb prospère consiste à prendre le contrôle et à organiser l'expérience du voyageur. Votre logement fait partie de la personne que vous êtes et, lorsque vous partagez votre espace et votre quartier avec un voyageur, vous lui fournissez un objectif unique au travers duquel il peut voir votre coin du globe.
Nous avons développé Coral pour vous aider à faire passer votre expérience de partage de logement au niveau suivant, en vous permettant de créer des expériences locales agréables et authentiques pour les voyageurs. Soyez un hôte minutieux avec moins d'efforts et créez des souvenirs durables encourageant une clientèle fidèle.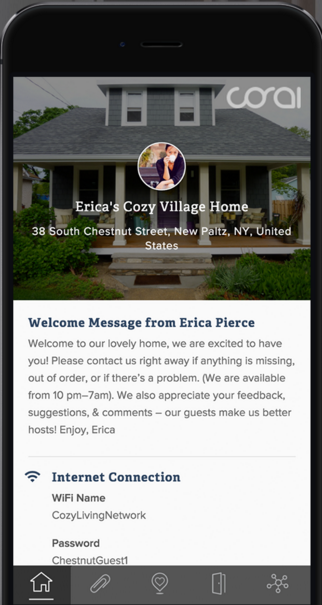 Le rôle d'hôte peut mettre de la pression sur vos épaules, vous faire perdre beaucoup de temps et peser sur votre santé mentale. Vos voyageurs dépendent de vous et des infos que vous avez partagées avec eux tout au long de leur voyage ; alors le fait de les informer avec minutie est essentiel à l'équilibre et au bonheur de tout le monde. Avec le Guide Coral dans les mains de vos voyageurs, vous pouvez avoir l'esprit tranquille en sachant qu'ils ont tout ce dont ils ont besoin pour un séjour incroyable et ce, grâce à vous !
Mettez-vous à la place de vos voyageurs ; pensez à tous les gadgets, appareils et détails de votre logement qui font partie de votre routine mais qui seront totalement inconnus pour eux. En fournissant des informations aidant vos voyageurs à comprendre comment utiliser toutes les fonctionnalités du logement, vous les aidez à se sentir à l'aise facilement.
Et ce n'est pas tout ! Les voyageurs recherchent une expérience locale authentique et comptent sur vous pour la vivre ! Mettez en avant vos joyaux locaux et facilitez l'exploration locale dont rêvent les voyageurs.
Une fois votre Guide Coral envoyé à vos voyageurs, installez-vous confortablement, détendez-vous et attendez l'arrivée d'évaluations 5 étoiles !
Inscrivez-vous pour créer votre Guide sur www.coral.life. Mentionnez que vous avez découvert Coral sur le blog de Properly, et nous vous offrirons un service gratuit de transfert du Manuel de la Maison vers le Guide et une intégration individuelle à l'équipe !
[:es]
Esta es una publicación de invitado escrita por Coral, una guía interactiva, ¡y uno de nuestros orgullosos socios en el ecosistema de los alquileres compartidos!
 Compartir tu casa es mucho más que publicar un anuncio, responder algunos mensajes, y rezar una oración cuando aparece un huésped. La verdadera magia de convertirse en un anfitrión exitoso de Airbnb está en tomar el control y la curaduría de la experiencia de tu huésped. Tu casa es parte de tu identidad y cuando compartes tu espacio y tu vecindario con un viajero, le das un lente único a través del cual mirar tu esquina del mundo.
Creamos Coral para ayudarte a llevar tu experiencia de alquiler compartido al siguiente nivel, al hacer posible que crees experiencias del cliente en tu localidad, encantadoras y auténticas. Sé un anfitrión meticuloso con menos esfuerzo y crea recuerdos duraderos que estimulan los negocios repetidos.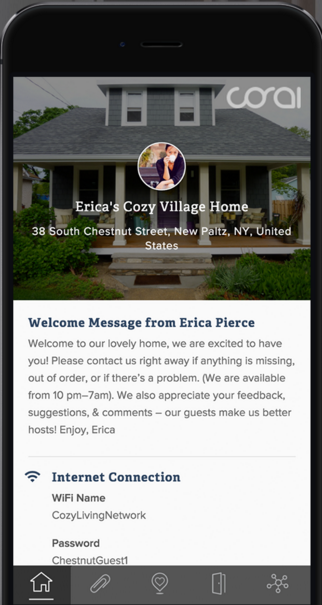 Ser anfitrión puede presionarte muchísimo y tomar mucho de tu tiempo y ancho de banda mental. Tus huéspedes dependen de ti y de la información que has compartido con ellos a lo largo del viaje; por lo tanto, informarlos minuciosamente es crucial para la salud mental y la satisfacción de todos.  Con tu guía Coral en las manos de tus huéspedes, puedes tener la tranquilidad de saber que ellos tienen todo lo necesario para una estadía increíble, ¡con tu curaduría!
Ponte en los zapatos de tu huésped, piensa en todos los aparatos, electrodomésticos, y detalles de tu casa que son rutina para ti pero que serán totalmente desconocidos para tus huéspedes. Proporcionar la información para ayudar a tus huéspedes a comprender cómo utilizar todas las herramientas de tu casa los ayudará a estar cómodos con facilidad.
No obstante, ¡esto no para allí! Los viajeros están buscando una experiencia local auténtica y ¡dependen de ti para que sea así! Muestra tus joyas locales favoritas con Coral y facilita a los huéspedes tener la travesía local que esperan ansiosamente.
Una vez que establezcas tu guía Coral para tus huéspedes, siéntate, relájate, y ¡mira llegar las evaluaciones de cinco estrellas!
Regístrate para crear su guía en www.coral.life. Menciona que leíste acerca de Coral en el blog de Properly, y te ofreceremos un servicio de transferencia gratuito de manual de la casa a guía y ¡una integración individualizada con el equipo! 
[:]