Introducing the new mobile calendar
[:en]Properly's community of users ranges from single property owners to multi-property managers. We heard from all users that they wanted to be able to use Properly from their computer – so we created the web app and we knew it would be particularly helpful for property managers. However, we noticed that many power users still use our mobile app heavily. After all, we're an industry of people on the go. So we set ourselves a challenge: to create a mobile interface that allows you to effectively manage one to hundreds of properties from a mobile device.
Here are a few examples.
A property manager explained the following problem to us: a guest changed their reservation at the last moment and left early on a Sunday morning (instead of two days later as originally planned). The property was set to Instant Book, and a booking came in at 1pm with the guest arriving at 4pm. The challenge was to be alerted of the change find a cleaner on Sunday afternoon, and get the property turned around by 4pm. This is a huge amount of operational complexity.
All of your upcoming changeovers have been scheduled. One of your service providers gets sick and has to cancel a job. You need to know the job has been canceled and get someone new scheduled right away.
You use Properly for tasks beyond just the turnover such as reminders to change a code on a lockbox, replace smoke detector batteries, key exchange, gardening projects, hot tub maintenance, and maintenance tasks…the list goes on. You want to be reminded when it's time for those jobs to get done.
As we spoke to users, one key request stood out: a To-Do list that would concisely and simply show what needed to get done. As one user told me:
"Nothing gives me more peace of mind than to clear my To-Dos – looking at an empty To-Do list is the ultimate peace of mind."
Introducing the To-Do list: Everything you need to do, at a glance
When you upgrade to the most recent version of Properly, you'll find the Calendar icon replaced by a Jobs icon: this is our redesigned new Calendar, including the new To-do list.
The new design has four tabs: To-Do, Pending, Calendar, and History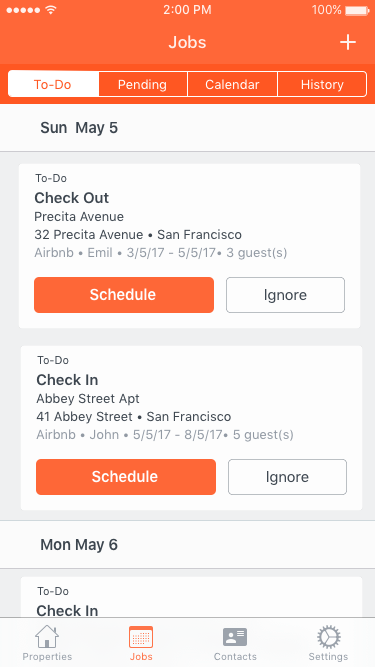 Every morning, start from your To-Do list. This is where you'll see new bookings. We automatically create two To-Dos for each new booking: one for the check-in and one for the check-out. If you do turnovers at check-outs, then use that To-Do to schedule your turnover cleaning. If you have a key exchange at check-in, use the check-in To-Do to schedule the key exchange. Once scheduled, your To-Do disappears, and the Job moves to Pending, where you can track the status. If you don't need to schedule a job for the check-in or check-out, simply tap "Ignore" and your To-Do reminder goes away. (Of course, you can still find the booking entry in the calendar and if you change your mind, you can schedule a job from your booking.)
But there is a lot more power in this new feature: if anything happens with the booking that your job is now associated with, we'll track it and we'll let you know. Here are some examples:
If the booking is edited or canceled and you have already scheduled a job, a new To-Do automatically appears on your To-Do list to edit (or cancel) the associated job.
If your service provider cancels a job, we create a new To-Do so you know you need to schedule the job again.
If a service provider declines a job, it will go back on your To-Do list with a prompt to 'Send to More' service providers.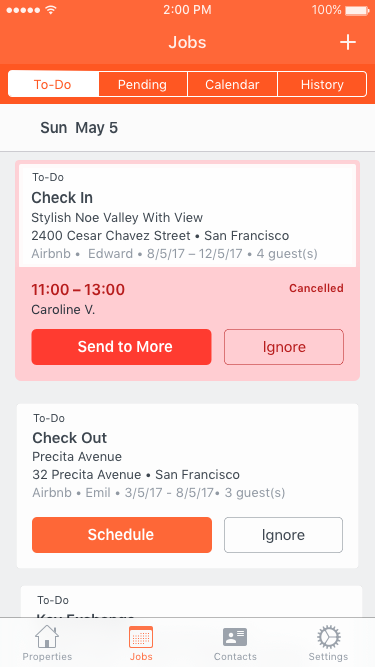 Introducing Pending: Monitoring job acceptance status
The new "Pending" tab shows you the status of a job you have sent. This allows you to track whether a job has been accepted, and see when your service providers have already viewed it. Once a job has been accepted, it stays in the "Pending" tab for an additional 12 hours so you can easily find it and see who accepted it; of course, you can also always find all jobs in your "Calendar". If a job has not been accepted in 24 hours, we add a "Send to More" button to remind you to take action. You can always send a job to additional service providers by simply tapping on it, and selecting the "Send to More" option. This is only available until a job has been accepted.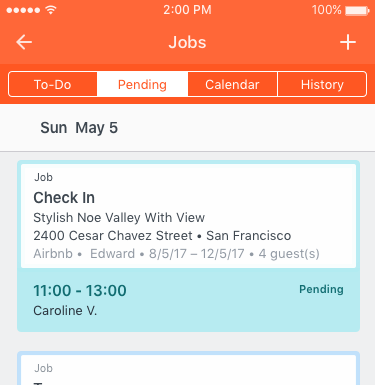 The Calendar and History
The Calendar and History contain all records: To-Dos, bookings, and jobs. You can also schedule jobs manually from the calendar by clicking on the + in the right hand corner. However, if you'd like to associate a job with a booking, simply tap on that booking and schedule a job from there. In that latter case, we'll track the status of the booking and will alert you if there are any changes so you can take action accordingly.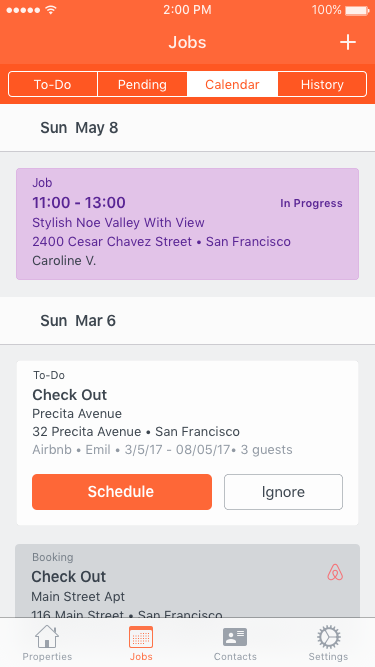 What's Coming Next?
We have several additional accompanying features we'll be launching soon:
The Task Editor:
We'll allow you to automate task reminders by property. Have a look at these examples:
A property requires a key exchange at check-in. You'll be able to set that up in the web app, and all of your calendars and To-Do lists will reflect those tasks. You will also be able to automate other reminders, such as changing lockbox codes, changing batteries for smoke detectors, pool cleanings, etc. Once you set up your recurring tasks, we'll prompt you with To-Dos only for jobs and tasks you set up (e.g. you'll get a To-Do to schedule a turnover only at check-out, not at check-in. The companion feature to this is Pre-fill. Pre-fill allows you to set up defaults by event. For example, for every check-out, you can set the default checklist to "Turnover Checklist" with a start time of noon. Or, for every check-in, you can set the default checklist to "Key exchange" with a start time of 4pm.
The Pre-fill feature is already live on the web app, and the Event Editor is currently in testing and will be released soon.
To-do list on the web app:
We'll be adding the To-do list to the web app shortly.
Notifications:
By tying jobs to bookings, we'll be able to allow you to set advanced notifications. You can be notified if a booking changes; or if a check-in is coming up and you haven't scheduled a job yet (or if the job you scheduled is still pending). This feature is currently in the spec stage.
A suggested workflow
We have seen that some of our most successful users use the web app and our mobile apps for different aspects of their daily workflow.
They use the web app to create checklists, and for their once-a-week scheduling of all non-urgent jobs. The rest of the week, they use the mobile app for everything that is urgent.
We support this workflow by dividing jobs into urgent (within 7 days) and non-urgent (more than 7 days away). The mobile app shows you urgent jobs on top; this allows you to schedule all new bookings that come in during the week with arrivals within the next 7 days right away, from your mobile app. For non-urgent jobs, you can schedule those as they come in, or wait until a set weekly scheduling day (e.g. Monday morning). We see many larger property managers use the web app to schedule all non-urgent jobs on the web app at a designated time each week; and they deal with all urgent jobs from the mobile app whenever they come in. This allows them to keep their 7-day mobile To-Do list empty as much as possible. And who doesn't love an empty To Do list?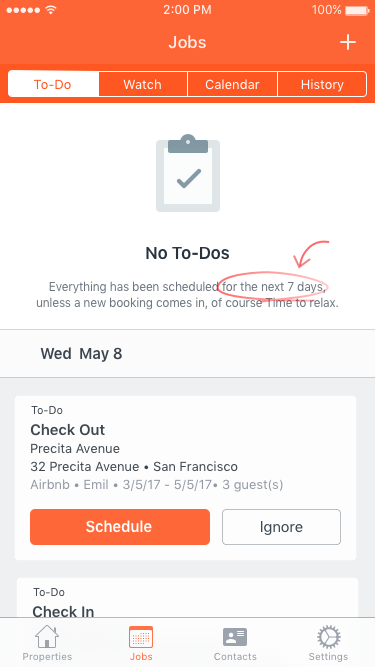 [:it]La community degli utenti di Properly va dai proprietari di un unico immobili ai gestori immobiliari professionisti. Tutti gli utenti ci hanno segnalato che desideravano poter utilizzare Properly dal computer: perciò abbiamo realizzato l'applicazione internet, sapendo che sarebbe stata particolarmente utile ai gestori di immobili. Tuttavia, abbiamo notato che molti grandi utenti utilizzano ancora frequentemente la nostra app mobile. Dopo tutto, nel nostro settore siamo sempre in movimento. Quindi ci siamo imposti una sfida: creare un'interfaccia mobile che consenta di gestire efficacemente uno o centinaia di immobile di immobile da un dispositivo mobile.
Ecco alcuni esempi.
Un gestore di immobili ci ha spiegato il seguente problema: un ospite ha cambiato la sua prenotazioni all'ultimo moment e se ne è andato al mattino presto di domenica (invece di due giorni dopo, come originariamente previsto). L'immobile era impostato su Prenotazione immediata e alle 13 ci è arrivata un prenotazione per un ospite che sarebbe arrivato alle 16. Il problema è stato essere avvisati del cambiamento, trovare un addetto alle pulizie di domenica pomeriggio e avere l'immobile pronto verso le 16. Dal punto di vista operativo è davvero complicatissimo.
Tutti i tuoi prossimi cambi sono stati programmati. Uno dei tuoi addetti all'accoglienza si ammala e deve annullare un incarico. Devi sapere che l'incarico è stato annullato e trovare immediatamente qualcuno a cui affidarlo.
Usi Properly per gestire altre attività al di là dei cambi, quali promemoria di cambiare il codice di una cassetta delle chiavi, sostituzione delle batterie di un rilevatore di fumo, manutenzione dell'idromassaggio e compiti di riparazione… l'elenco si allunga. Vuoi che ti venga ricordato quando è il momento di eseguire questi compiti.
Parlando con gli utenti, è emersa sopra ogni altra una richiesta: un elenco di Cose da fare che mostri in modo semplice e conciso quello che c'è da fare. Come mi ha detto un utente:
"Niente mi dà più serenità di esaurire le mie Cose da fare: guardare un elenco di Cose da fare vuoto è il massimo della tranquillità."
Il nuovo elenco delle Cose da fare: tutto ciò che devi fare con una sola occhiata
Passando alla versione di Properly più recente, noterai che l'icona del Calendario è stata sostituita da un'icona Incarichi: questo è il nostro nuovo Calendario riprogettato, che comprende il nuovo elenco di Cose da fare.
La nuova finestra a quattro schede: Cose da fare, In attesa, Calendario e Cronologia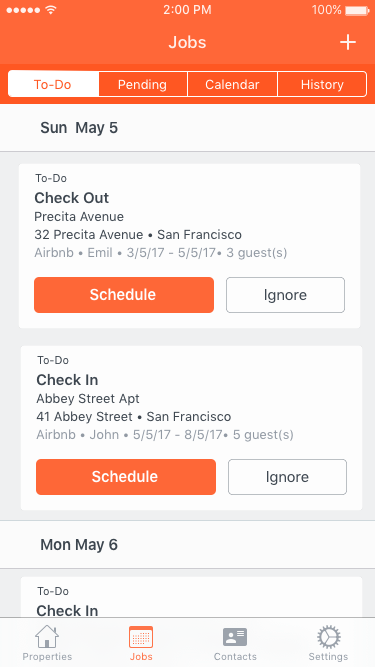 Ogni mattina, comincia dal tuo elenco di Cose da fare. Qui vedrai le tue nuove prenotazioni. Automaticamente, creiamo due Cose da fare per ogni prenotazione: una per il check-in e una per il check-out. Se fai i cambi al check-out, usa questa voce delle Cose da fare per programmare la pulizia al cambio dell'immobile. Se devi fare un passaggio di chiavi al check-in, usa la voce corrispondente delle Cose da fare per programmare il passaggio di chiavi. Una volta programmata, la voce delle Cose da fare scompare e l'incarico passa In attesa, dove puoi monitorarne lo stato. Se non hai bisogno di programmare un incarico al check-in o al check-out, basta toccare "Ignora" e il promemoria delle Cose da fare scompare (naturalmente trovi sempre la voce della prenotazione nel calendario e, se cambi idea, puoi programmare un incarico dalla prenotazione).
Ma questa funzione è ancora più potente: se succede qualcosa in relazione alla prenotazione a cui l'incarico è ora associato, lo monitoreremo e te lo faremo sapere. Ecco alcuni esempi:
Se la prenotazione viene modificata o annullata e hai già programmato un incarico, una nuova voce delle Cose da fare compare automaticamente nel tuo elenco corrispondente, affinché tu possa modificare (o annullare) l'incarico associato.
Se il tuo addetto all'accoglienza annulla un incarico, creiamo una nuova voce delle Cose da fare in modo che tu sappia che devi riprogrammare l'incarico.
Se il tuo addetto all'accoglienza rifiuta un incarico, esso ritornerà nel tuo elenco delle Cose da fare con l'indicazione "Invia ad altri" addetti all'accoglienza.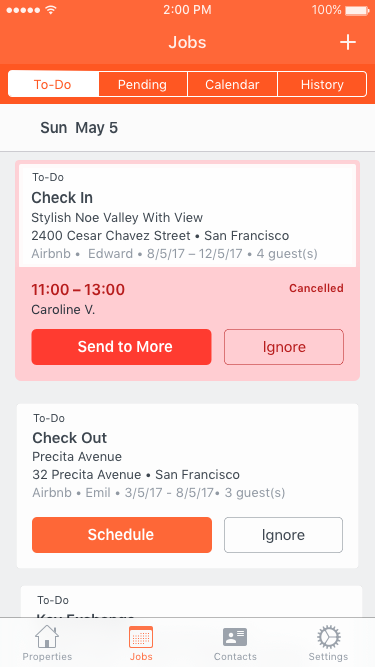 Il nuovo stato "In attesa": monitoraggio dell'accettazione degli incarichi
La nuova scheda "In attesa" ti mostra lo stato di un incarico che hai inviato. Questo ti consente di monitorare se un incarico è stato accettato e di vedere quando i tuoi addetti all'accoglienza lo hanno visionato. Una volta che un incarico è stato accettato, rimane nella scheda "In attesa" per altre 12 ore in modo che tu lo possa trovare facilmente e vedere chi lo accettato; naturalmente, puoi sempre trovare tutti i tuoi incarichi nel tuo "Calendario". Se un incarico non viene accettato in 24 ore, aggiungiamo un pulsante "Invia ad altri" per ricordarti di fare qualcosa. Puoi sempre inviare un incarico ad altri addetti all'accoglienza semplicemente toccandolo e selezionando l'opzione "Invia ad altri", che è disponibile solo fino a quando un incarico non viene accettato.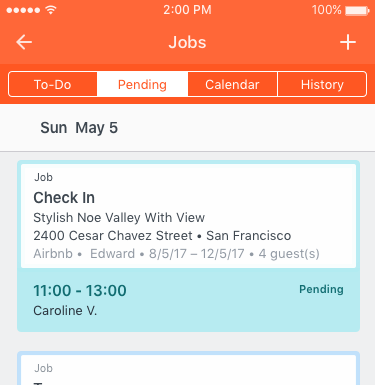 Il calendario e la cronologia
Il Calendario e la Cronologia contengono tutti i dati:  cose da fare, prenotazioni e incarichi. Puoi anche programmare gli incarichi manualmente dal calendario cliccando sul + nell'angolo a destra. Tuttavia, se desideri associare un incarico a una prenotazione, basta toccare la prenotazione in questione e programmare da lì l'incarico. In questo secondo caso, monitoreremo lo stato della prenotazione e ti avvertiremo se ci sono eventuali variazioni affinché tu possa intraprendere azioni di conseguenza.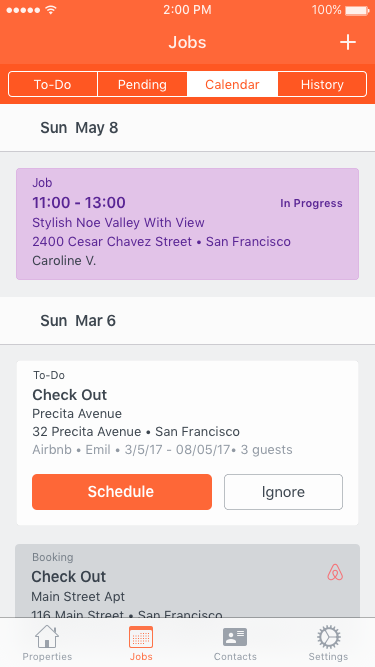 Cosa arriverà dopo?
Abbiamo varie funzioni coordinate aggiuntive che saranno lanciate presto:
L'editor dei compti:
Ti daremo la possibilità di automatizzare i promemoria delle attività per ogni immobile. Dai un'occhiata a questi esempi:
Un immobile richiede un passaggio di chiavi al check-in. Potrai impostarlo nell'applicazione internet e tutti i tuoi calendari e gli elenchi delle cose da fare rifletteranno questi compiti. Inoltre potrai automatizzare altri promemoria, come cambiare i codici delle cassette delle chiavi, sostituire le batterie dei rilevatori di fumo, pulizie della piscina, ecc. Una volta configurati i tuoi compiti ricorrenti, ti avviseremo con voci di Cose da fare solo per gli incarichi e i compiti che imposti (p. es. ci sarà una voce delle Cose da fare per programmare un cambio solo al check-out, non al check-in. La funzione abbinata a questo è la precompilazione. La precompilazione ti permette di impostare i valori predefiniti per ogni evento. Per esempio, per ogni check-out, puoi impostare la checklist predefinita su "Checklist del cambio" con ora di inizio a mezzogiorno. Oppure, per ogni check-in, puoi impostare la checklist predefinita su "Passaggio delle chiavi" con ora di inizio alle 16.
La funzione di precompilazione è già attiva nell'applicazione internet mentre l'editor degli eventi è attualmente in fase di test e sarà presto disponibile.
Elenco delle Cose da fare nell'applicazione internet:
Inseriremo l'elenco delle Cose da fare nell'applicazione internet a breve.
Notifiche:
Legando gli incarichi alle prenotazioni, saremo in grado di permetterti di impostare notifiche avanzate. Puoi ricevere una notifica se c'è una variazione di una prenotazione, o se un check-in si avvicina e non hai ancora programmato un incarico (o se l'incarico che hai programmato è ancora in attesa). Questa funzione è attualmente in fase di specifica.
Un flusso di lavoro consigliato
Abbiamo constatato che alcuni dei nostri utenti di maggior successo usano l'applicazione internet e le nostre app mobili per aspetti diversi del loro flusso di lavoro quotidiano.
Utilizzano l'applicazione internet per creare le checklist e per la programmazione di tutti gli incarichi non urgenti, eseguita una volta alla settimana. Il resto della settimana, usano l'app mobile per tutte le cose urgenti.
Forniamo uno strumento per questo flusso di lavoro dividendo gli incarichi in urgenti (entro 7 giorni) e non urgenti (tra più di 7 giorni). L'app mobile ti mostra gli incarichi urgenti in alto; questo ti permette di programmare tutte le nuove prenotazioni che arrivano durante la settimana con arrivo entro i 7 giorni successivi direttamente dalla tua app mobile. Per gli incarichi non urgenti, puoi programmarli quando arrivano o aspettare fino al giorno della programmazione settimanale (p. es. lunedì mattina). Notiamo che molti grandi gestori di immobili usano l'applicazione internet per programmare tutti gli incarichi non urgenti in uno specifico momento ogni settimana, mentre si occupano di tutti gli incarichi urgenti dall'app mobile non appena arrivano. Questo permette loro di mantenere più vuoto possibile il loro elenco di Cose da fare nei 7 giorni seguenti. E a chi non piace non avere cose da fare?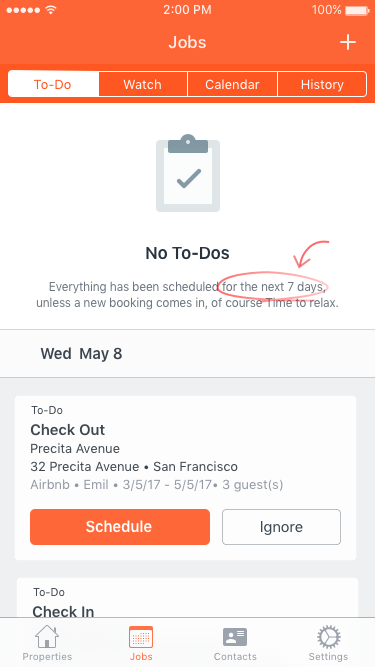 [:fr]La communauté d'utilisateurs de Properly oscille entre les propriétaires d'un bien unique et les gestionnaires de multiples propriétés. Tous les utilisateurs nous ont fait savoir qu'ils voulaient pouvoir utiliser Properly à partir de leur ordinateur – nous avons donc créé l'appli web et nous savions qu'elle serait particulièrement utile pour les gestionnaires immobiliers. Cependant, nous avons remarqué que de nombreux utilisateurs chevronnés utilisaient toujours l'appli mobile intensivement. Après tout, nous sommes une industrie de personnes en mouvement. Alors nous nous sommes fixé un défi : créer une interface mobile vous permettant de gérer efficacement entre une et cent propriétés à partir d'un dispositif mobile.
Voici quelques exemples.
Un gestionnaire immobilier nous a expliqué le problème suivant : un voyageur a modifié sa réservation au dernier moment et est parti de bonne heure un dimanche matin (au lieu de deux jours plus tard, comme prévu à l'origine). La propriété était définie sur Réservation Instantanée, et une réservation a été reçue à 13h, avec le voyageur arrivant à 16h. Le défi consistait à être alerté du changement, à trouver un(e) H/F de ménage un dimanche après-midi, et que la propriété soit prête pour 16h. Il s'agit d'un gros volume de complexité opérationnelle.
Tous vos roulements à venir ont été planifiés. Un de vos prestataires de services tombe malade et doit annuler une prestation. Vous avez besoin de savoir que la prestation a été annulée et d'attribuer cette dernière à quelqu'un d'autre immédiatement.
Vous utilisez Properly pour des tâches allant au-delà de la simple rotation, telles que des rappels pour changer un code sur un coffre, remplacer les piles d'un détecteur de fumée, un échange de clés, des projets de jardinage, l'entretien d'un jacuzzi, et les tâches d'entretien… et la liste continue. Vous souhaitez recevoir des rappels lorsqu'il est temps que ces prestations soient effectuées.
Au cours de nos discussions avec les utilisateurs, une demande essentielle s'est démarquée : une liste "À Faire" qui montrerait de manière brève et simple ce qui doit être fait. Comme un utilisateur me l'a dit :
"Rien de m'apporte plus de tranquillité d'esprit que d'effacer mes tâches À Faire – voir une liste "À Faire" vide est la tranquillité d'esprit ultime."
Présentation de la liste "À Faire" : Tout ce que vous devez faire, en un coup d'œil
En passant à la version la plus récente de Properly, vous trouverez l'icône Calendrier remplacée par une icône Prestations : il s'agit de notre nouveau Calendrier repensé, avec la nouvelle liste "À Faire".
Le nouveau design possède quatre onglets : À Faire, En attente, Calendrier, et Historique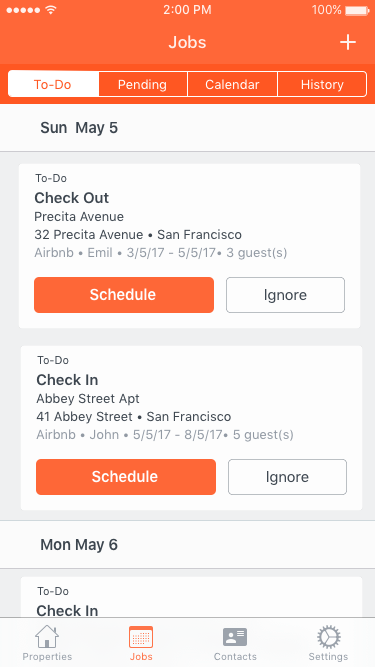 Chaque matin, commencez avec votre liste "À Faire". C'est là que vous verrez les nouvelles réservations. Nous créons automatiquement deux listes "À Faire" pour chaque nouvelle réservation : une pour l'arrivée et une pour le départ. Si vous effectuez des rotations au moment des départs, utilisez alors cette liste "À Faire" pour planifier votre nettoyage avec rotations. S'il y a un échange de clés à l'arrivée, utilisez la liste "À Faire" de l'arrivée pour planifier l'échange de clés. Une fois programmée, votre liste "À Faire" disparaît, et la Prestation est déplacée vers En Attente, où vous pouvez suivre le statut. Si vous n'avez pas besoin de planifier de prestation pour l'arrivée ou le départ, appuyez simplement sur "Ignorer" et votre rappel À Faire disparaîtra. (Évidemment, vous pourrez toujours trouver la réservation dans le calendrier et, si vous changez d'avis, vous pourrez planifier une prestation à partir de la réservation.)
Mais cette nouvelle fonctionnalité a beaucoup plus de pouvoir : s'il se passe quoi que ce soit avec la réservation à laquelle votre prestation est à présent associée, nous le repérons et vous en informons. Voici quelques exemples :
Si la réservation est modifiée ou annulée alors que vous avez déjà planifié une prestation, un nouveau "À Faire" apparaîtra automatiquement sur votre liste "À Faire" pour modifier (ou annuler) la prestation associée.
Si votre prestataire de services annule une prestation, nous créons un nouveau "À Faire" afin que vous sachiez qu'il est nécessaire de planifier la prestation à nouveau.
Si un prestataire de services décline une prestation, celle-ci retournera dans votre liste "À Faire" avec un message-guide pour "Envoyer à plus" de prestataires de services.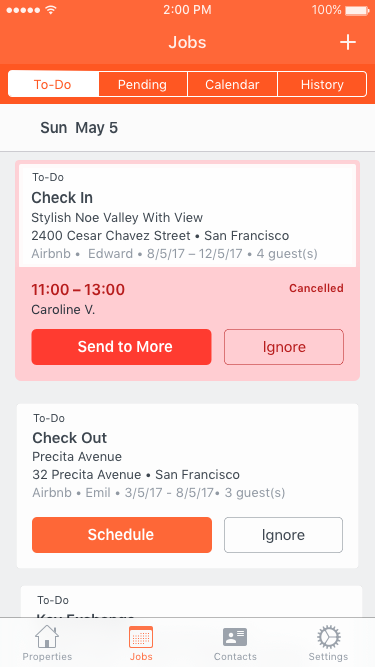 Présentation de "En attente" : suivi du statut de l'acceptation de la prestation
Le nouvel onglet "En attente" vous montre le statut de la prestation que vous avez envoyée. Cela vous permet de vérifier si une prestation a été acceptée, et de voir quand vos prestataires de services l'ont consultée. Une fois qu'une prestation a été acceptée, elle reste dans l'onglet "En attente" pendant 12 heures supplémentaires afin que vous puissiez facilement la retrouver et voir qui l'a acceptée ; évidemment, vous pouvez aussi toujours retrouver toutes vos prestations dans votre "Calendrier".  Si une prestation n'a pas été acceptée dans un délai de 24 heures, nous ajoutons un bouton "Envoyer à plus" pour vous rappeler d'intervenir. Vous pouvez toujours envoyer une prestation à des prestataires de services supplémentaires en appuyant simplement dessus, et en sélectionnant l'option "Envoyer à plus". Cela est seulement disponible jusqu'à l'acceptation d'une prestation.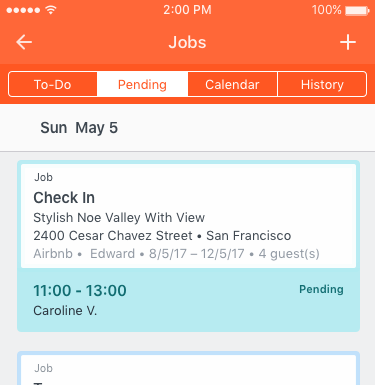 Les Calendrier et Historique
Les Calendrier et Historique contiennent tous les enregistrements : À Faire, réservations, et prestations. Vous pouvez aussi planifier des prestations manuellement à partir du calendrier en cliquant sur le + dans le coin droit. Cependant, si vous souhaitez associer une prestation à une réservation, il vous suffit d'appuyer sur cette réservation et de planifier une prestation à partir de là. Dans ce dernier cas, nous surveillerons le statut de la réservation et vous alerterons s'il y a des changements afin que vous puissiez intervenir en conséquence.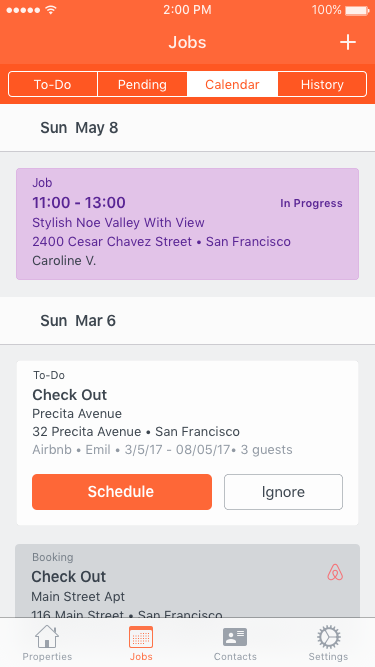 Et qu'est-ce qui nous attend ?
Nous avons plusieurs fonctionnalités d'accompagnement que nous lancerons bientôt :
L'Éditeur de tâches :
Nous vous permettrons d'automatiser les rappels de tâches par propriété. Jetez un coup d'œil à ces exemples :
Une propriété nécessite un échange de clés à l'arrivée. Vous pourrez configurer cela dans l'appli web, et tous vos calendriers et listes "À Faire" refléteront ces tâches. Vous serez aussi en mesure d'automatiser d'autres rappels, tels que le changement de codes de coffres, le remplacement de piles pour les détecteurs de fumée, les nettoyages de piscines, etc. Une fois que vous aurez mis en place vos tâches récurrentes, nous vous avertirons des choses "À Faire" seulement pour les prestations et tâches que vous avez définies (par exemple, vous recevrez une invitation "À Faire" pour planifier une rotation seulement lors des départs, pas pour les arrivées). La fonctionnalité d'accompagnement pour ceci est le Pré-remplissage. Le Pré-remplissage vous permet de configurer des réglages par défaut par événement. Par exemple, pour chaque départ, vous pouvez définir la liste de tâches par défaut sur "Liste de tâches de rotations" avec une heure de début à midi. Ou, pour chaque arrivée, vous pouvez définir la liste de tâches par défaut sur "Échange de clés" avec une heure de début à 16h.
La fonctionnalité Pré-remplissage est déjà active sur l'appli web, et l'Éditeur d'Événements est actuellement en cours de test et sera bientôt lancé.
Liste "À Faire" sur l'appli web :
Nous ajouterons la liste "À Faire" à l'appli web prochainement.
Notifications :
En reliant les prestations aux réservations, nous pourrons vous permettre de définir des notifications avancées. Vous pouvez être notifié(e) si une réservation est modifiée ; ou si une arrivée approche et que vous n'avez pas encore planifié de prestation (ou si la prestation planifiée est toujours en attente). Cette fonctionnalité en est actuellement à l'étape des spécifications.
Un flux de travail suggéré
Nous avons remarqué que quelques-uns de nos utilisateurs les plus performants utilisent l'appli web et nos applis mobiles pour différents aspects de leur flux de travail quotidien.
Ils utilisent l'appli web pour créer des listes de tâches, et pour leur planification hebdomadaire de toutes les prestations non urgentes. Le reste de la semaine, ils utilisent l'appli mobile pour tout ce qui est urgent.
Nous supportons ce flux de travail en répartissant les prestations urgentes (dans les 7 jours) et non urgentes (après plus de 7 jours). L'appli mobile vous montre les prestations urgentes en haut ; cela vous permet de planifier toutes les nouvelles réservations reçues durant la semaine avec des arrivées dans les 7 jours, à partir de votre appli mobile. En ce qui concerne les prestations non urgentes, vous pouvez les planifier au moment de leur réception, ou attendre jusqu'à un jour de planification hebdomadaire défini (par exemple : le lundi matin). Nous voyons de nombreux gestionnaires immobiliers majeurs utiliser l'appli web pour planifier toutes les prestations non urgentes via l'appli web à une heure désignée chaque semaine ; et ils traitent les prestations urgentes à partir de l'appli mobile, quand elles sont reçues. Cela leur permet de garder leur liste "À Faire" mobile pour 7 jours vide autant que possible. Et qui n'adore pas une liste "À Faire" vide ?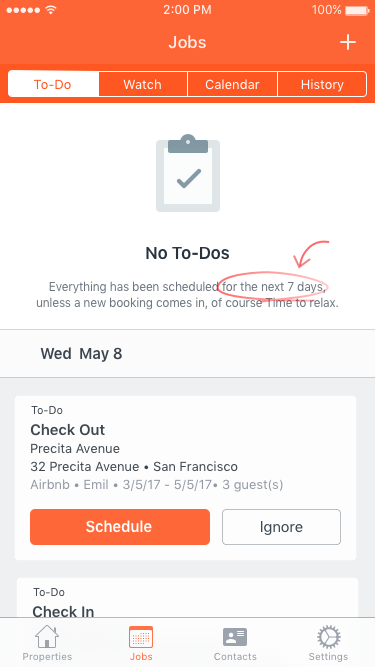 [:es]La comunidad de usuarios de Properly abarca desde propietarios de un solo inmueble a jefes de varias propiedades. Nos enteramos por nuestros usuarios que querían poder usar Properly desde su ordenador de escritorio, por eso creamos la aplicación web y supimos que sería especialmente útil para los jefes de propiedad. No obstante, notamos que muchos usuarios frecuentes aún usan mucho nuestra  aplicación móvil. Después de todo, somos una industria de gente en movimiento. Entonces nos pusimos un reto: crear una interfaz móvil que te permite administrar efectivamente una o cientos de propiedades desde un dispositivo móvil.
Aquí hay algunos ejemplos.
Un jefe de propiedad nos explicó el siguiente problema: un huésped cambió su reserva al último momento y salió el domingo por la mañana (en lugar de dos días más tarde, como estaba originalmente planeado). La propiedad fue puesta en reserva instantánea y entró una reserva a la 1 p. m. con el huésped llegando a las 4 p. m. El reto fue ser avisado del cambio, encontrar a un operario de limpieza un domingo en la tarde, y tener la propiedad lista a las 4 p. m. Esta es una enorme cantidad de complejidad operacional.
Todos tus cambios de huéspedes venideros han sido programados. Uno de tus proveedores de servcios se enferma y tiene que cancelar un trabajo. Necesitas saber que un trabajo fue cancelado y conseguir a alguien más para programarlo de inmediato.
Usas Properly para tareas más allá de solamente los cambios de invitados, como: recordatorios para cambiar los códigos de una caja de seguridad, reemplazar las baterías del detector de humo, un intercambio de llaves, proyectos de jardinería, mantenimiento de una bañera de hidromasaje, y tareas de mantenimiento…la lista continua. Quieres que se te recuerde cuándo es el momento de hacer esos trabajos.
A medida que hablábamos con los usuarios, se destacó una petición clave: una lista Por hacer que mostrara de manera concisa y sencilla qué era necesario hacer. Como me dijo un usuario:
"Nada me damás tranquilidad que vaciar mi lista de cosas por hacer;  ver una lista vacía de cosas por hacer es la máxima tranquilidad".
Presentamos la Lista Por hacer: Todo lo que debes hacer, de un vistazo
Cuando actualices a la versión más reciente de Properly, encontrarás que el icono del Calendario ha sido reemplazado por el icono de Trabajos: este es nuestro nuevo Calendario rediseñado, que incluye la nueva lista Por hacer.
Nuestro nuevo diseño tiene cuatro pestañas: Por hacer, Pendientes, Calendario, e Historial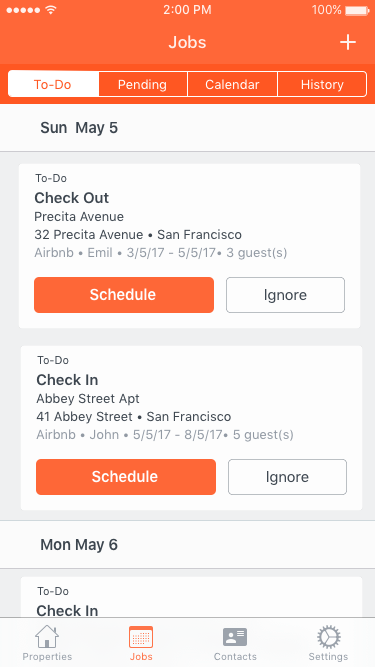 Cada mañana, comienza en tu lista Por hacer. Aquí es donde verás las nuevas reservas. Creamos automáticamente dos Por hacer por cada nueva reserva: una para el registro y una para la salida. Si haces cambios de invitados y salidas, entonces usa ese Por hacer para programar la limpieza del cambio de invitados. Si tienes un intercambio de llaves en el registro, usa el Por hacer del registro para programar el cambio de llaves. Una vez programado, tu Por hacer desaparece, y el trabajo se mueve a Pendientes, donde puedes monitorizar el estado. Si no necesitas programar un trabajo para el registro o la salida, simplemente toca "Ignorar" y tu recordatorio de Por hacer desaparecerá. (Desde luego, aún puedes encontrar la entrada de la reserva en el calendario y si cambias de opinión, puedes programas un trabajo desde la reserva).
Pero hay mucho más poder en esta nueva característica: si algo pasa con la reserva con la cual tu trabajo está ahora asociado, lo monitorizaremos y te lo haremos saber. A continuación algunos ejemplos:
Si la reserva es editada o cancelada y ya has programado un trabajo, aparecerá automáticamente un nuevo Por hacer en tu lista Por hacer para editar (o cancelar) el trabajo asociado.
Si tu proveedor de servicios cancela un trabajo, creamos un nuevo Por hacer para que sepas que debes programar el trabajo de nuevo.
Si tu proveedor de servicios declina un trabajo, este último regresará a tu lista Por hacer con un aviso de  "Enviar a más" proveedores de servicios.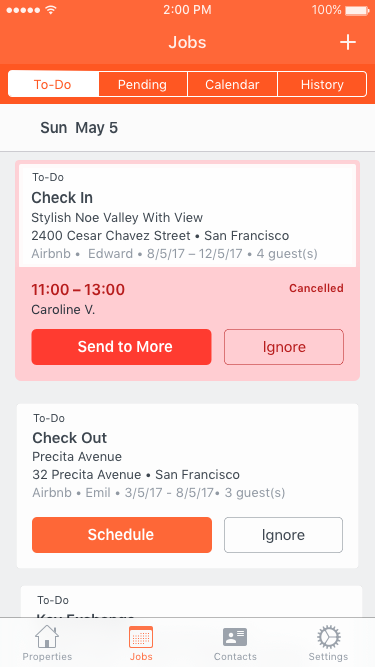 Presentamos Pendientes: Monitorizar el estado de aceptación de un trabajo
La nueva pestaña de "Pendientes" te muestra el estado de un trabajo que has enviado. Esto te permite monitorizar si un trabajo ha sido aceptado, y ver cuándo tus proveedores de servicios ya lo han visto. Una vez que un trabajo ha sido aceptado, se queda en la pestaña de "Pendientes" por otras 12 horas para que puedas encontrarlo fácilmente y ver quién lo aceptó; desde luego, también puedes encontrar siempre todos tus trabajos en el "Calendario". Si un trabajo no ha sido aceptado en 24 horas, tenemos un botón "Enviar a más" para recordarte que tomes acción. Siempre puedes enviar un trabajo a otros proveedores de servicios tocando simplemente sobre este, y seleccionando la opción "Enviar a más". Esto solo está disponible hasta que un trabajo ha sido aceptado.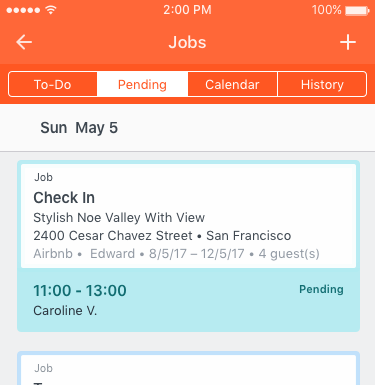 El calendario y el historial
El Calendario y el Historial contienen todos los registros: Por hacer, reservas, y trabajos. También puedes programar trabajos de manera manual desde el calendario clicando sobre el + en la esquina a la derecha. Sin embargo, si prefieres asociar un trabajo con una reserva, simplemente toca sobre esa reserva y programa un trabajo desde allí. En este último caso, monotorizaremos el estado de la reserva y te avisaremos si hay cambios para que puedas actuar en consecuencia.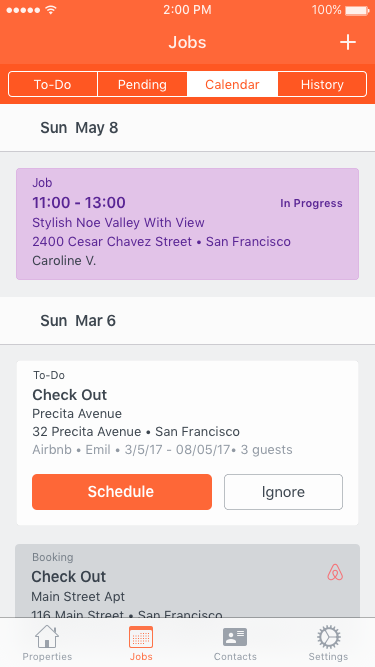 ¿Qué sigue?
Tenemos varias características adicionales complementarias que lanzaremos pronto:
El Editor de tareas:
Te permitiremos automatizar los recordatorios de tareas por propiedad. Dale un vistazo a estos ejemplos:
Una propiedad requiere intercambio de llaves en el registro. Podrás arreglarlo en la aplicación web, y todos tus calendarios y listas Por hacer reflejarán esas tareas. También podrás automatizar otros recordatorios, como cambiar las contraseñas de las cajas de seguridad, cambiar las baterías de los detectores de humo, limpiar piscinas, etc. Una vez que hagas los arreglos de tus tareas recurrentes, te avisaremos con tus Por hacer solo para trabajos y tareas que has arreglado (p.e. recibirás un Por hacer para programar un cambio de invitados solo en la salida, no en el registro).  La característica compañera de esto es el Llenado previo. El llenado previo te permite establecer predeterminados por evento. Por ejemplo, por cada salida, puedes establecer la lista predeterminada para "Lista de tareas de cambio de invitados" con hora de inicio a mediodía. O, por cada registro, puedes establecer la lista de tareas predeterminada "Intercambio de llaves" con hora de inicio a las 4 p. m.
La característica de llenado previo ya está funcional en la aplicación web, y el Editor de eventos está en pruebas actualmente y pronto será lanzado.
Lista Por hacer en la aplicación web:
Pronto añadiremos la lista Por hacer a la aplicación web.
Notificaciones:
Al vincular los trabajos a las reservas, podremos permitirte establecer notificaciones por adelantado. Puedes ser notificado si una reserva cambia; o si se aproxima un registro y aún no has programado un trabajo (o si el trabajo que programaste aún está pendiente). Esta característica se encuentra actualmente en la etapa de especificación.
Un flujo de trabajo sugerido
Hemos visto que algunos de nuestros usuarios más exitosos usan la aplicación web y nuestras aplicaciones móviles para aspectos diferentes de su flujo de trabajo diario.
Ellos usan la aplicación web para crear listas de tareas, y para su programación semanal de todos los trabajos no urgentes. El resto de la semana, ellos usan la aplicación móvil para todo lo que sea urgente.
Damos apoyo a este flujo de trabajo dividiendo los trabajos en urgentes (dentro de los próximos 7 días) y no urgentes (dentro de más de 7 días). La aplicación móvil te muestra los trabajos urgentes en la parte superior; esto te permite programar de inmediato todas las nuevas reservas que entran durante la semana, con llegadas dentro de los siguientes 7 días, desde tu aplicación móvil. Para los trabajos no urgentes, puedes programarlos a media que llegan, o esperar hasta el día establecido de programación (p. e. lunes en la mañana). Vemos a muchos jefes de propiedades grandes usar la aplicación web para programar todos los trabajos no urgentes en la aplicación web en un momento designado, cada semana; y se hacen cargo de todos los trabajos urgentes desde la aplicación móvil cuando estos entran. Así pueden mantener vacía su lista móvil de Por hacer de 7 días tanto como sea posible. ¿Y a quién no le encanta una lista de cosas por hacer vacía?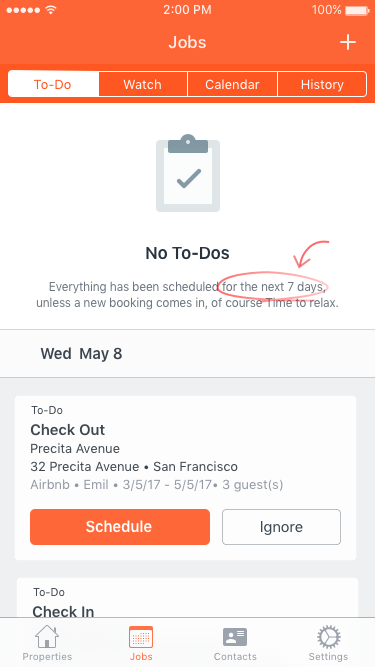 [:]