New Feature: Create and Export Reports
[:en]
Now you can create and export detailed reports on Properly to run your short term rental or property management business even more efficiently. This new reporting feature now helps property managers stay organized while managing changeover operations from start to finish.
Reports also help you:
• Easily invoice payments for service providers
• Quickly identify damage to make filing damage claims from guests simple
• Track all servicing and repair needs on your properties
• View all finished jobs and gain insight into frequency of changeover services
• Identify the service providers
All reports are printable and simple to generate. You'll find the new tab labeled Reports on the top of your dashboard.
Here's how to create a new report:
Example Report for: All Jobs Finished by Anna G between October 1st and Today
1. Enter a Title for the report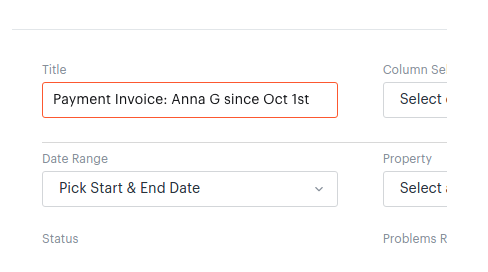 2. Choose the Date Range
a. Open the calendar picker and click on the Custom tab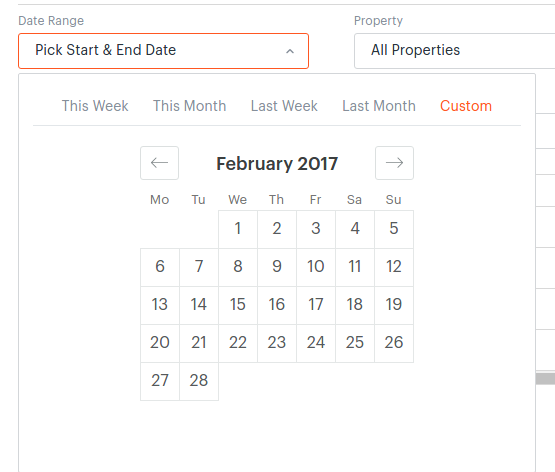 b. Navigate to October and click on the October 1 cell
c. Navigate to the current month and click on today's date
d. The date range you selected will be in orange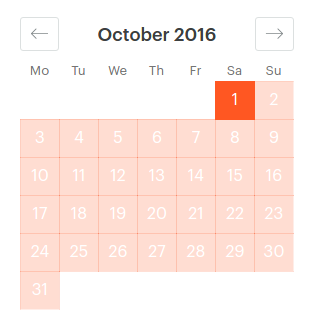 e. Now click on the Service Provider drop down menu on the far right
f. Search for "Anna" and select from the list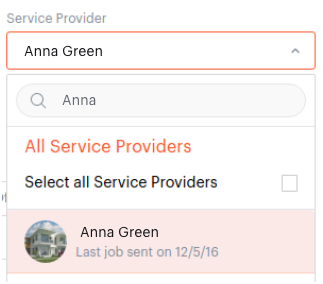 g. Close the drop down menu by clicking anywhere outside of the menu
3. Open the Status drop down menu on the left
a. Select Accepted from the menu.  This ensures you are only creating a report for a cleaner who has accepted (and therefore done) jobs. If you don't select a status, then every job that was sent to a cleaner will also appear, including Canceled and Pending jobs.
4. Save the report – you don't want to lose all of your progress!
Optional: Select which columns you want displayed in your report in the Column Selector drop down menu.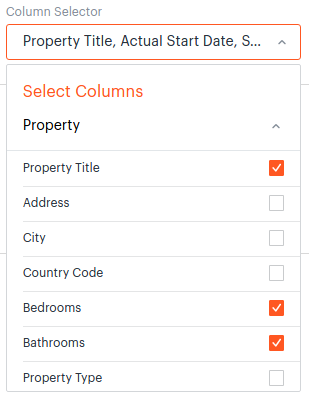 5. Export the report by clicking Export and choosing your preferred CSV type.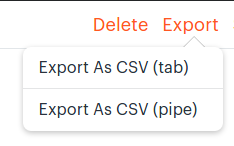 Note: If you are using Safari and do not see the Save File window, read the orange text on the small message and check the name of your downloaded file.
[:it]
Adesso puoi creare ed esportare report dettagliati su Properly per gestire la tua attività di affitto a breve termine o gestione immobiliare in modo più efficiente. Questa nuova funzione di reportistica è utile a chi gestisce i cambi degli ospiti a organizzare ogni aspetto dal principio alla fine.
I report ti aiutano anche a:
• Gestire facilmente i pagamenti degli addetti all'accoglienza
• Individuare i danni per inoltrare richieste di risarcimento assicurative con facilità
• Monitorare tutte le necessità di assistenza e riparazione dei tuoi immobili
• Vedere tutti gli incarichi completati e avere una visione della frequenza dei servizi di cambio degli ospiti
• Identificare gli addetti all'accoglienza
Tutti i report possono essere stampati e sono semplici da generare. Nella parte alta della tua dashboard, troverai una nuova scheda con l'etichetta Report.
Ecco come si crea un nuovo report:
Report di esempio per: Tutti gli incarichi finiti da Anna G dal 1 ottobre a oggi
1. Inserisci un titolo del report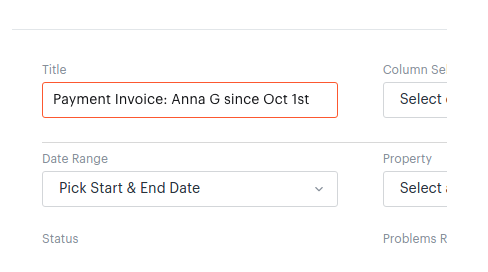 2. Scegli l'Intervallo di date
a. Apri il selettore del calendario e clicca sulla scheda Personalizzato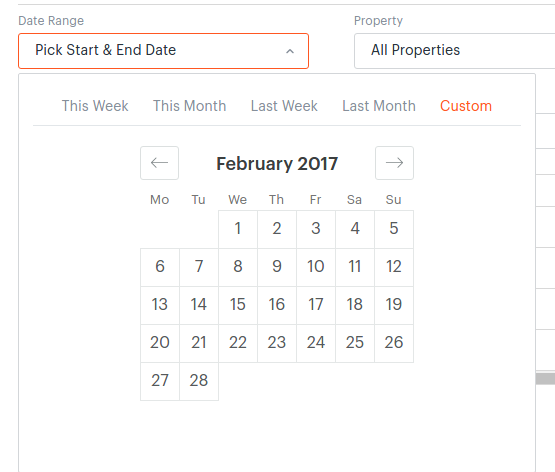 b. Vai al mese di ottobre e clicca sulla cella corrispondente al 1° del mese
c. Passa al mese attuale e clicca sulla data di oggi
d. L'intervallo di date selezionato sarà evidenziato in arancione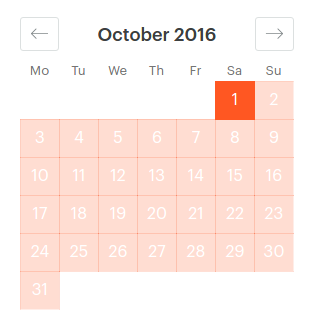 e. Ora clicca sul menu a discesa Addetto all'accoglienza all'estrema destra
f. Cerca "Anna" e selezionala nell'elenco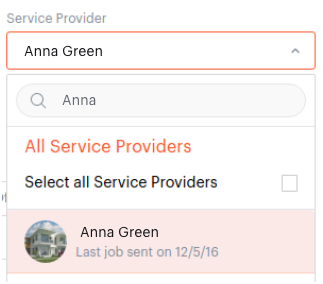 g. Chiudi il menu a discesa cliccando in qualunque punto al suo esterno
3. Apri i menu a discesa Stato sulla sinistra
a. Seleziona Accettato nel menu. Questo assicura che si stia creando un report solo per gli addetti alle pulizie che hanno accettato (e quindi eseguito) degli incarichi. Se non selezioni uno stato, ogni incarico che invii a un addetto alle pulizie comparirà nell'elenco, compresi quelli Annullati o In attesa.
4. Salva il report: per non perdere tutto il lavoro fatto!
Facoltativo: seleziona le colonne che vuoi visualizzare nel tuo report nel menu a discesa Selettore colonne.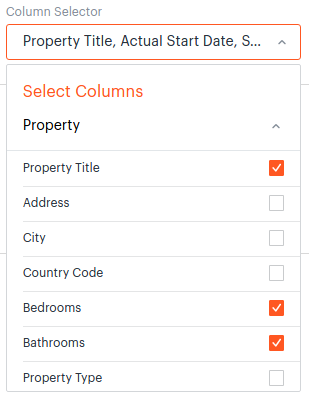 5. Esporta il report cliccando su Esporta e selezionando il tipo di CSV desiderato.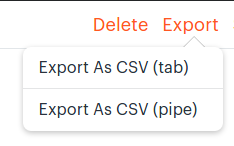 Nota: se si sta utilizzando Safari e non si vede la finestra Salva file, leggere il testo arancione nel messaggio in piccolo e controllare il name del file scaricato.
[:fr]
À présent, vous pouvez créer et exporter des rapports détaillés sur Properly pour diriger votre entreprise de gestion de propriétés ou locations à court terme encore plus efficacement. Cette nouvelle fonctionnalité liée aux rapports aide les gestionnaires immobiliers à rester organisés tout en gérant des opérations de roulements du début à la fin.
Les rapports vous aident aussi à :
• Facilement régler les paiements pour les prestataires de services
• Rapidement identifier des dégâts pour simplifier la présentation de demande d'indemnisation auprès des voyageurs
• Assurer le suivi de tous les besoins en matière d'entretien et réparation dans vos propriétés
• Consulter toutes les prestations terminées et avoir une meilleure idée de la fréquence des services de roulements
• Identifier les prestataires de services
Tous les rapports sont imprimables et simples à générer. Vous trouverez le nouvel onglet intitulé Rapports en haut de votre tableau de bord.
Voici comment créer un nouveau rapport :
Exemple de rapport pour : toutes les prestations terminées par Anna G entre le 1er octobre et aujourd'hui
1. Saisissez un Titre pour le rapport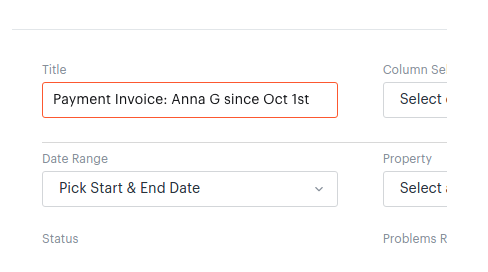 2. Choisissez la Période
a. Ouvrez le sélecteur du calendrier et cliquez sur l'onglet Personnalisation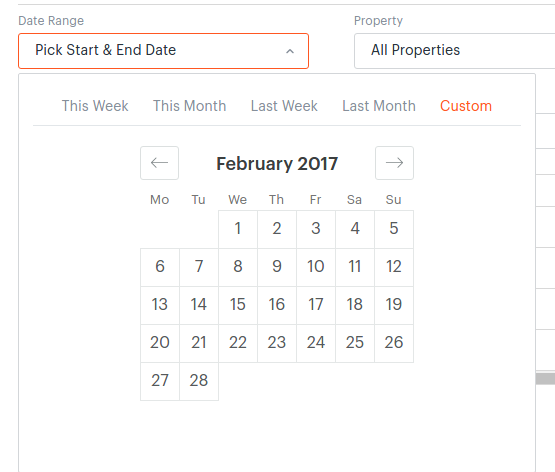 b. Naviguez vers octobre et cliquez sur la cellule du 1er octobre
c. Naviguez jusqu'au mois actuel et cliquez sur la date d'aujourd'hui
d. La période sélectionnée sera en orange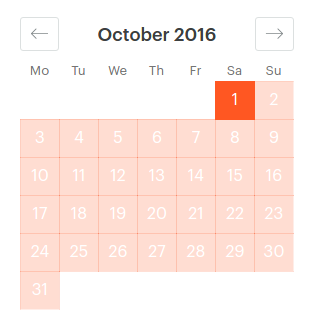 e. Maintenant cliquez sur le menu déroulant Prestataire de Services tout à droite
f. Cherchez "Anna" et sélectionnez à partir de la liste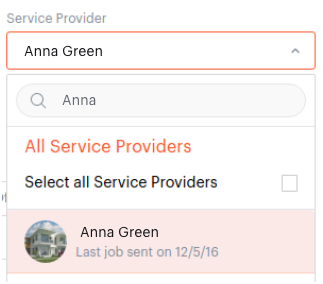 g. Fermez le menu déroulant en cliquant n'importe où en dehors du menu
3. Ouvrez le menu déroulant Statut à gauche
a. Sélectionnez Acceptées à partir du menu. Cela garantit la création d'un rapport pour un(e) H/F de ménage qui a accepté (et donc effectué) des prestations. Si vous ne sélectionnez pas de statut, alors toutes les prestations envoyées à un(e) H/F de ménage apparaîtront, y compris les prestations Annulées et En attente.
4. Enregistrez le rapport – vous ne voulez pas perdre toute votre avancée !
Facultatif : sélectionnez les colonnes que vous voulez afficher dans votre rapport à partir du menu déroulant Sélecteur de Colonnes.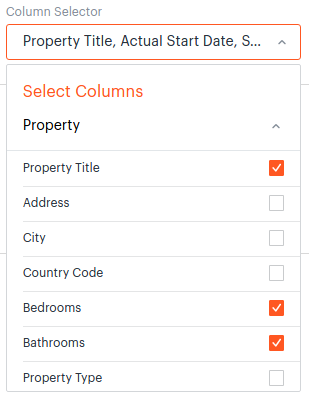 5. Exportez le rapport en cliquant sur Exporter et choisissez votre type CSV préféré.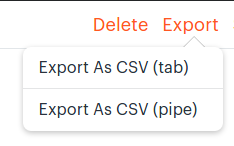 Remarque : si vous utilisez Safari et ne voyez pas la fenêtre Enregistrer le fichier, lisez le texte en orange sur le petit message et vérifiez le nom de votre fichier téléchargé.
[:es]
Ahora puedes crear y exportar informes en Properly para operar tu alquiler a corto plazo o empresa de gestión de propiedades, de manera aún más eficiente. Esta nueva herramienta de informes ahora ayuda a los jefes de propiedad a estar organizados al gestionar las operaciones de cambio de invitados desde el comienzo hasta el final.
Los informes también te ayudan a:
• Facturar fácilmente los pagos para los proveedores de servicios
• Identificar rápidamente los daños para simplificar la presentación de reclamos por daños causados por los huéspedes 
• Monitorizar todas las necesidades de servicios y reparaciones de tus propiedades
• Ver todos los trabajos terminados y comprender la frecuencia de los servicios de cambios de invitados
• Identificar a los proveedores de servicios
Todos los informes, se pueden imprimir y son sencillos de generar. Encontrarás la nueva pestaña con la etiqueta Informes en la parte superior de tu panel.
Así se crea un nuevo informe:
Ejemplo de informe para: Todos los trabajos terminados por Anna G entre el 1 de octubre y hoy
1. Introduce un título para el informe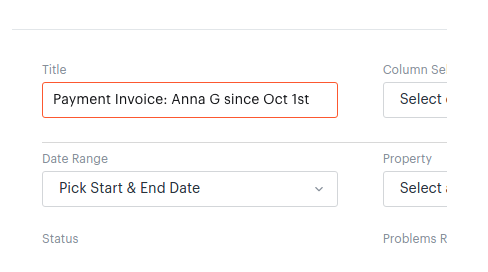 2. Escoge el rango de fechas
a. Abre el selector del calendario y clica sobre la pestaña Personalizado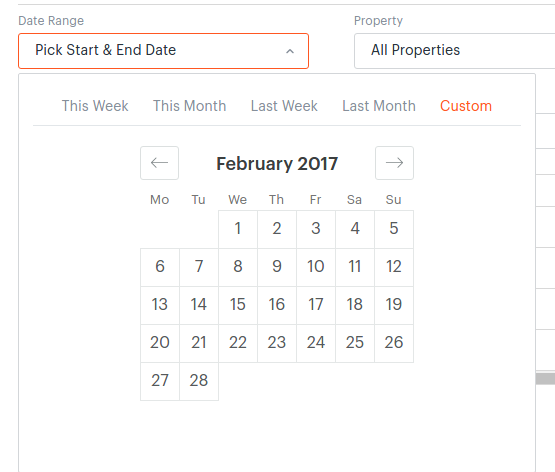 b. Navega hasta octubre y clica sobre la celda del 1 de octubre
c. Navega al mes actual y clica sobre la fecha de hoy
d. El rango de fechas que seleccionaste estará en naranja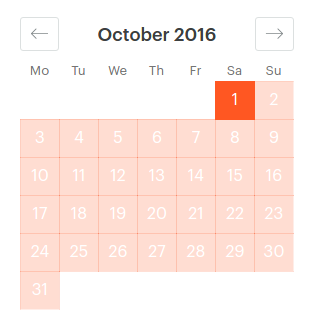 e. Ahora clica sobre el menú desplegable de proveedor de servicios  en el extremo a la derecha
f. Busca a "Anna" y selecciónala en la lista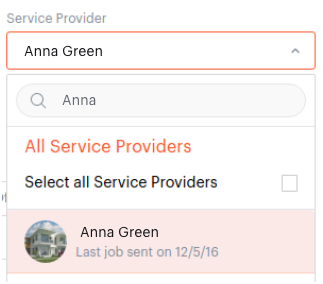 g. Cierra el menú desplegable clicando en cualquier lugar fuera del menú
3. Abre el menú desplegable Estado, a la izquierda
a. Selecciona Aceptado en el menú.  Esto asegura que vas a crear un informe solamente para una operaria de limpieza que ha aceptado (y por lo tanto hecho) trabajos. Si no seleccionas un estado, entonces todos los trabajos que le hayan enviado a un operario de limpieza también aparecerán, incluso los cancelados y los pendientes.
4. Guarda el informe; ¡no quieres perder todo el trabajo que has hecho!
Opcional: Selecciona cuáles columnas quieres que se muestren en tu informe, en el menú desplegable de selector de columnas.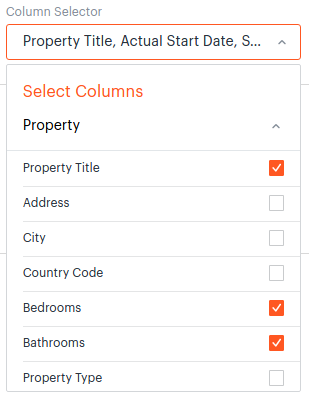 5. Exporta el informe clicando Exportar yeligiendo el tipo de CSVque prefieres.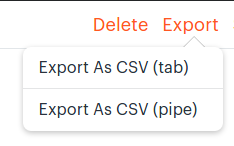 Nota: Si estás usando Safari y no ves la ventana de Guardar archivo, lee el texto naranja en el mensaje pequeño y revisa el nombre del archivo descargado.
[:]